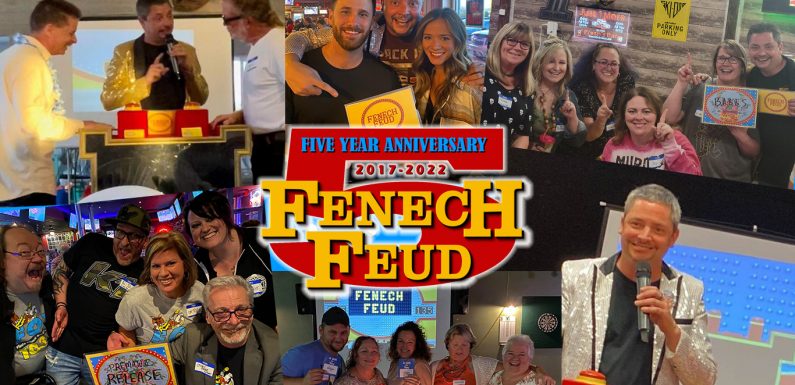 I've always loved the Family Feud. It was after they stopped producing the board game with a 'board' that I decided to make my own. But mine wasn't a table top board like the one that came in the box. It stood 6 feet tall, lit up, and would spin around with each round of answers that flipped over… just like the old mechanical board from the original Richard Dawson and Ray Combs eras.
In 2002, we started using it for a brief run of the Maxie's Feud at Maxie's Food and Spirits in Flint. As awesome as it was to have a mechanical board with a full set that blinked with the game play, the disadvantage was that we could only play two questions at a time before we had to reset the answers. But I really miss that giant board! The last time I used it was at my wedding reception in 2005. The Maxie's Feud returned on a very limited basis a few years later with a completely computerized board that I helped program with my friend Chris Alcorn.
It was five years ago, on June 7, 2017 that Mardell Landis and the team at The Fireplace took a chance on my silly take on the Feud. This time, however, we began to build a very loyal following! We originally re-launched as "The Fireplace Faceoff".
Realizing that this was taking off, and that we would be playing at several different venues all over Mid-Michigan simultaneously, we re-branded the game one last time as 'The Fenech Feud'. Since then we have added leagues, tournaments, and charity fund-raisers to our weekly events. We've raised close to $5,000 for The Old Newsboys of Flint and The Food Bank of Eastern Michigan.
We are thrilled to be a part of the Flint community, and I absolutely love bringing laughs to the city I love so much! We've grown from a Genesee County secret to a Mid-Michigan favorite! From company parties for ServPro, Krol Communications, Advanced Physical Therapy Centers and McClaren, to bridal showers, wedding receptions and private game-night shows all over the area, we continue to reach new Michiganders with our crazy antics weekly!
We still have weekly shows on Thursday Nights at Scooters Bar & Grill in Flint, and have an ongoing relationship with the Davison Eagles Club. Thanks to our previous venues/clients: The Fireplace, Joe & Lewie's Penalty Box, Jack's Place, Mug Shotz Bar & Grill, Flushing Valley Golf Course, The Bullring, Captain's Club at Woodfield, Greta Van Fleet, Sloan Museum, Longway Planetarium and the Augres Yacht Club.
It's an honor to be asked back week after week to make the crowd laugh with an overload of absolute silliness, while we help out our neighbors in need. Here's to many more Adults-Only Game Nights with the Fenech Feud! And yes, we will be selling more "Hey, Idiot! STFU" T-shirts in the very near future!