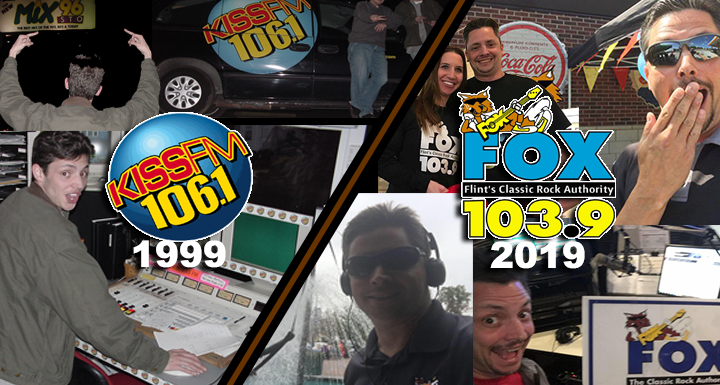 I have been on the air for 25 years this year, but what most people may not realize is that I have been programming radio for 20 years this month! I interviewed for my first programming job on my 21st birthday, and officially started 10 days later!
I found some old audio from when I was running Kiss-FM in Evansville. We were a sweet sounding radio station 20 years ago! I'm still amazed how local I was able to make RickDees sound. He was on a tape delay from California, yet he gave the current temperature following each one of Ron Rhodes' weather forecasts. And for those who listen to 103.9 The Fox at 5pm, you'll hear where the Punch-Out Party Show Opener came from!
I worked with and met some great people in Evansville! To this day I keep in touch with a lot of them! But going to Evansville and running that station was kind of like me going off to college for a few years! I think it still holds up considering this is almost 20 years ago. Julie, Ryan, Storm, Josh, Warren, Jeff, 'Max Power', 'Fish' and 'Brad Fox' were a few of the great people who helped bring this beast to life. Ryan O'Bryan is still there (in the building), and he kept it crunk for the majority of time since I left back in 2002.
But now, instead of being the new unknown station, KissFM is Evansville's heritage Top 40 station. Hot 96 hasn't been around as long as Kiss, because they were forced to reposition themselves after Kiss kicked 96STO's ass! I am delighted to have called Evansville home for 5 years, and privileged to have been part of developing what is still to this day a phenomenal radio station! Click below to go back in time 20 years!
I'm still having fun, I still love what I do, here's to another 25 years!