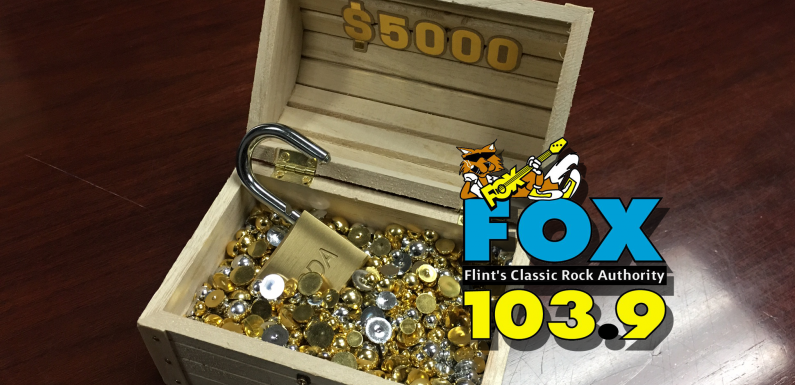 103.9 The Fox is proud to be Mid-Michigan's only remaining locally owned FM radio station.  The fact that WRSR is owned by a small company doesn't stop The Fox doing HUGE cash giveaways!  We just handed out $5,000 to a listener in Flint, and we're doing it again!
Ann Kaufeld of Flint was the grand prize winner scoring a cool $5K when the key she picked, number 65, was the key that opened the chest and netted her five thousand dollars in Free Fox Money! We're on to our second $5,000 cash prize, so set all of your radios at home, at work and in the car to 103.9 The Fox, or listen with the Fox Mobile App.  When you hear the sounder weekdays at 7:20am, 10:20am, 2:20pm, and 5:20pm, be caller 9 at 810-230-WRSR and get qualified!
That's what the Fox Five Thousand Dollar Local Winner Guarantee is all about.  We guarantee that another listener WILL win $5,000 from 103.9 The Fox, not someone listening to one of our sister stations.  That's the smoke-and-mirrors surrounding those corporate radio contests.  Most radio stations owned by the same corporation do the same contest with only one nationwide prize.   In fact, a lot of the corporate-owned stations in Flint, Saginaw, Lansing and all over the U.S. are all doing the same contest.  The odds of winning are outrageous!
All contests on 103.9 The Fox are just that… contests on 103.9 The Fox, and only 103.9 The Fox!  Once you get through as caller 9, you have a 1 in 80 chance of joining Ann in the $5,000 Winner's Circle!  Keep it locked to get in on the win!  Thanks for listening, and good luck from 103.9 The Fox!