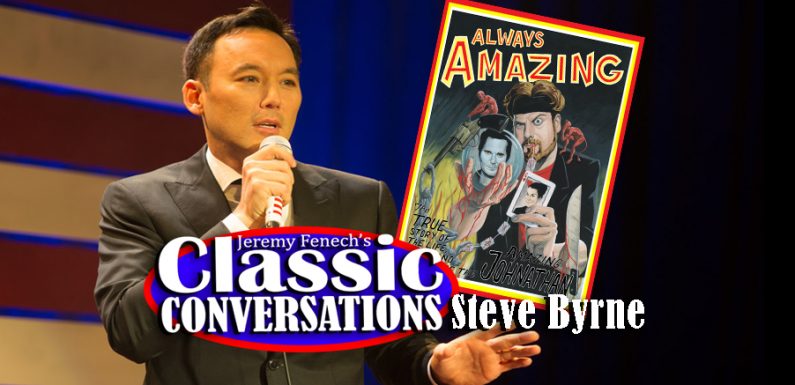 He has spent his life in front of an audience as a comedian and actor, and behind the camera as a director and producer. Now, he's combining the best of both worlds with a new film that showcases and honors comedy legend, The Amazing Jonathan!
In addition to being a great comedian and a great director (watch his new film below), he is a lot of fun to talk to! Whether watching him on stage during his years of touring, or on any of his many TV appearances ("The Tonight Show", "Good Morning America", "The Chapelle Show", and many more), Steve comes across as very genuine and real. He was just as cool, laid back and easy-to-talk to during our interview as you'd expect!
As funny as Steve is on stage, he was groomed and inspired by some of the best comics in the business, including The Amazing Jonathan. Just over three years ago, Jonathan was diagnosed with cardiomyopathy and was given one year to live. After beating the odds and outliving the diagnosis by more than 300%, Jonathan wanted to see if he still had it, and it was AMAZING!
Check out the new film "Always Amazing: The True Story of the Life, Death and Return of The Amazing Jonathan" directed by my friend Steve Byrne! It's free to the public on YouTube on the All Things Comedy page, or right here:
A huge thanks to Steve Byrne, and I'm really looking forward to taking on that big part in your next film! Thank you so much!
Be sure to visit Steve Byrne's official website www.stevebyrnelive.com/! My full interview with Steve is also available on YouTube, and Anchor.
BEHIND THE SCENES: As with all of my Classic Conversations, there is a difference between the podcast and the actual on-air broadcast, which breaks up a long interview over a period of time. In this case, our fifteen minute conversation aired over a period of two hours on the air. Here is what the on air broadcast sounded like as it aired on June 14th, 2019 from 5:00pm to 7:00pm EDT on 103.9 The Fox, WRSR-FM in Flint, Michigan.
Check out more of my Classic Conversations with more fascinating people, like game show hosts Wink Martindale and Marc Summers, musicians like Kenny Wayne Shepherd and Gary Hoey, actors like Butch Patrick and Denis Levasseur, and many, many more! Including legendary Mid-Michigan Newsman, Bill Harris!