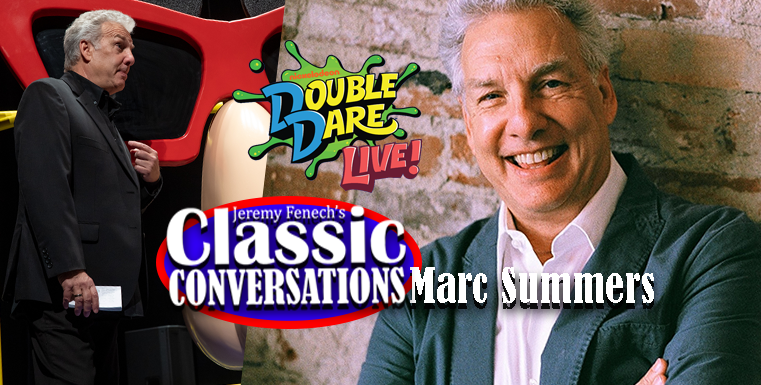 He started in radio on WBMP in Elwood, Indiana. He was replaced on the air by David Letterman.  He moved to L.A. where he worked behind-the-scenes of iconic TV classics like "All In The Family", "The Mary Tyler Moore Show", "Sonny & Cher", "The Bob Newhart Show", "The Carol Burnett Show" and "Rhoda". Along the way, he has become a TV icon himself!  It's a pleasure to have Marc Summers on the show, ahead of his stop at The Fox Theater in Detroit with "Double Dare Live" on May 15th!
Click here to listen to the podcast of Jeremy Fenech's Classic Conversation with Marc Summers.
If you grew up in the 1980s, you may be familiar with the what was known as the first-ever all-children's network, Nickelodeon. Launching in April of 1979, "Nick" was home to shows like "Pinwheel", "You Can't Do That On Television" and my personal favorite "Double Dare".
Being the first game show made expressly for kids, the gack-infused slime fest was an instant hit with kids of all ages, mainly thanks to host Marc Summers. He made it fun and engaging for the kids, and treated them like equals.
READ MORE:  Jeremy's Classic Conversation with Wink Martindale.
Now a grandfather, Marc is truly proud of of his career and the work that he has done. He loves being associated with good, quality, family television, and is thrilled to be back on the set of "Double Dare" in 2019! Serving as not only announcer but also executive producer, he is heavily involved in the reboot of what he was a part of starting 32 years ago.
Throughout the run of the original series, the show featured many firsts, including a game show host wardrobe change that would set a whole new tone in the game show world. What hosting fashion trend are we talking about?  Listen to the Classic Conversation to find out! I will, however, share with you Marc's favorite episode of "Double Dare".
He said that his favorite episode of all-time was the "Double Dare: Super Slop-O-Mania Special, Part 1". He loved having the wrestlers on the show, and it's all come full-circle. Just last week, a week after WWE's "Wrestlemania", "Double Dare" presented "WWE Superstar Week". During the final episode of the week, the obstacle course offered the biggest prize in the show's history, $10,000! Was the prize money won?  Check out the video below to find out.
Before becoming a game show legend himself, not only was he was working behind-the-scenes on many classic sitcoms that I mentioned earlier, but he also worked on classic game shows!  In fact, his first job when he moved to Los Angeles in 1973 was writing for "Truth or Consequences" where he worked with Bob Barker. He was also behind-the-scenes on my second favorite game show of all-time, "Match Game" as hosted by the late, great Gene Rayburn.  Marc started his game show announcing career very unexpectedly, and you can find out what show that was on during our conversation. You'll also find out why Marc is hosting "Scrabble" instead of playing during "America's Favorite Game Show Hosts" week.
Marc Summers is just as cool to talk to as you think he is.  It's interesting to hear how involved Marc and his production company are involved with Food Network. We discussed his long-running series "Unwrapped" and other projects he is involved with.  Even when talking about being diagnosed with and overcoming OCD, Marc was very open saying it was all "mind over matter".
His kids were 3 and 6 when "Double Dare" debuted in 1986, and it's very cool to hear what his kids are doing now, especially his son.  He's definitely following in his dad's footsteps with a very respectable background in television production.
"Everything that's happened in my career has been a mistake", Summers joked.  But make no mistake, it's quite the opposite!  While most of us would have killed to be in the audience for great shows like "The Mary Tyler Moore Show" and "Match Game", Marc was paid to be there!  Whether it was because he was in the right place at the right time or not, Marc Summers has earned his place as a game show icon. Appealing to every generation, and to everybody, Marc Summers has definitely secured a place in not only television history, but in America's heart!
Watch Marc Summers on new episodes of Nickelodeon's "Double Dare", and grab your tickets for "Double Dare Live!" coming to Fox Theater on May 15, 2019!
Click here to listen to the podcast of Jeremy Fenech's Classic Conversation with Marc Summers.