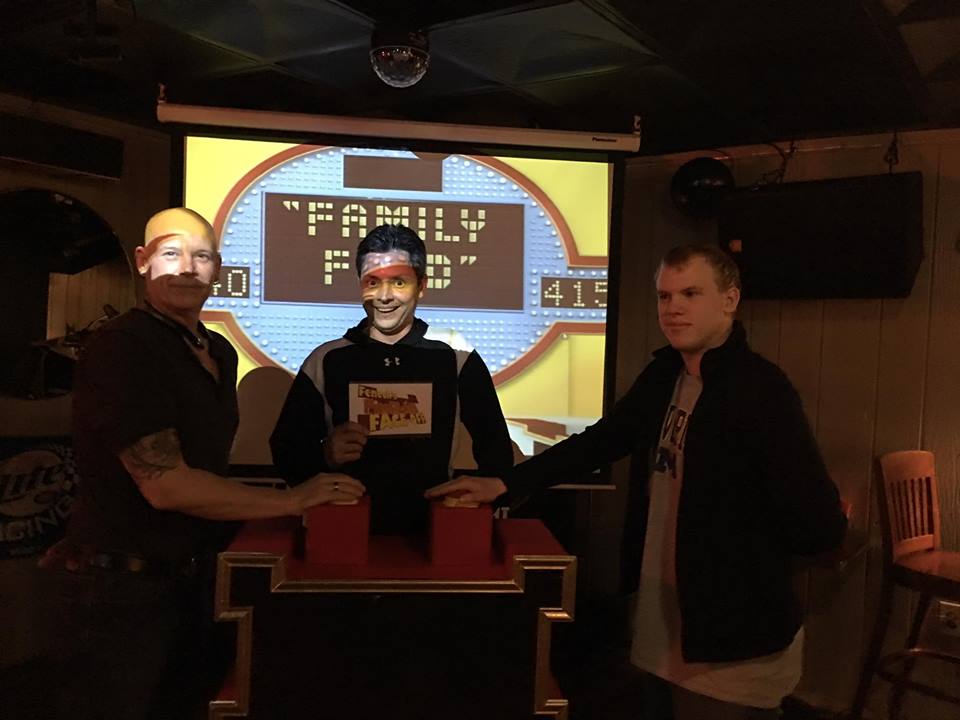 "NO, WE HAVEN'T HEARD ANYTHING NEW!!!" and "YES! WE'RE STILL WAITING!!!" Two sentences that my wife, my sister, my brother-in-law and my sister-in-law have been saying repeatedly since we were told that there's a good chance we're going to be contestants on this season of 'Family Feud'. As as of this moment, the wait continues…
'Family Feud' has been a huge part of The Fenech Family since the show first signed on. Some of my earliest memories are playing the board game that my Uncle Chet was controlling at family gatherings at my Nanna's house. But when I turned 21 and was horrified to discover that the company that manufactured the board game stopped making an actual table-top board to keep track of the answers, two things happened. I was devastated and heart-broken, yet my obsession kicked into high gear.
So I figured that if I wanted a Family Feud board, I would have to build it myself. What started out as a 4 foot x 4 foot board that could hold a single six-answer question evolved into this beautiful hand-made 'puppet'!
This light-up beauty stood six-feet tall, and ran just like the classic board from the Richard Dawson and Ray Combs board from the late 1970s to the early 1990s. The center of the my board spun around to show reveal the operators choice of three panels. One of which showed the game logo, and the other two could hold two 12-answer questions.
Like the original board from the TV show, my first board was controlled completely by hand. That's right, 100% totally manually operated! I was usually the one behind it lighting up the board quadrants in time with the music cues, syncing up the answers flipping as closely as possible to the 'ding' sound effect being played off a Mini-Disc player, or playing the strike sound effect while powering a strobe light. It was just as much fun to run that beauty as it was to host the games!
My wife and I pitted our families against each other for a friendly game when we got married in 2005 (yep, my wife is a Feud-Freak too). But long before that in 2002, I had a fun idea! I was such a geek about the show that I convinced my boss at Maxie's Food & Spirits to let me start my karaoke program an hour early just so we could play an 'R', sometimes X-Rated, adults-only version of the game show classic. That's when 'The Maxie's Feud' was born.
Much like Steve Harvey's more modern, more risque version, The Maxie's Feud asked some straight-forward, some silly or funny, some sexually-suggestive, and some flat-out raunchy survey questions. The game was a Flint-area hit for months until I moved back to Evansville, Indiana in Spring of 2003.
A great friend of mine by the name of Chris Alcorn is a computer-coding wizard who helped develop a computer program for me during when I was back in E-Ville for the better part of 2003. This thing is amazing!!! It was designed so that I could connect it to my mechanical board. It would keep track of each answer's individual point value, while calculating the score and managing what team gets the bank at the end of each round!  It worked so well, when the mechanical board became too damaged to use, we simply projected Chris' brainchild on to a screen!
The Maxie's Feud returned in early 2004 until I took on the role of night host at WWCK-FM… the soon-to-be home of The Nite Time Party, and the birthplace of my "Just Bob" persona.
Fast forward almost 15 years to 2017, and a new chapter of a Fenech Feud has been born! After hosting My Trivia Live at The FirePlace for years, the owners wanted to showcase my talents on another night of the week. When I suggested something along the lines of The Maxie's Feud 2.0, their eyes lit up!
Another dear friend of mine and leader of Party Crew 2.0, Rickelodeon didn't just help me… he basically built a newer, sturdier Face-Off Podium replica from scratch by himself. This thing looks AMAZING! I was able to wire up the podium to a nice-looking flash program. It doesn't run as nicely as the program Chris coded for me, but that was designed for controlling scores. This flash program was designed specifically for displaying the game, so it just looks FENtastic! However, I like mechanical answers that physically flip over. So, we're already talking about building a new version of the board itself, at which point I will immediately go back to the Alcorn score-keeping program.
In the meantime the Party Crew and I have taken the classic game show that we all know and love, combined it with a bar game I hosted at the turn of the century, and have teamed up with The FirePlace to heat-up your hump-days! We've changed the rules to create a brand new game, and we've asked your neighbors the perfect questions to make everyone uncomfortable just long enough… until everyone breakout in laughter!
Big props to my peeps Evansville who were there when it all started with 'The KissFM Feud'. To Chris, Greg, Amanda, Ron, Kim, Bryan, Grant, Storm, Julie, Spaz, Fish & Puddin', I'd like thanks for your help in either construction and testing of the very first board, putting up with all the late night Feud nights in my basement and living room, or simply the non-stop encouragement through the years!
To Ron S., Ron M., Andre, George, Jamie, Matt, Amanda and Elissa who helped breathe life into 'The Maxie's Feud', I want to thank you from the bottom of my heart for helping me bring the Feud on Crack across state lines. And yes, even Paul. Thank you for hosting Family Feud at our wedding reception, and for your contribution to the success of 'The Maxie's Feud'. 
A huge, mammoth-sized, motor-boatin' thank you to my current Party Crew Members who work with me on this project to make The FirePlace FaceOff happen so smoothly every week! To our Game Board Operators: Not-so-Saint Nick, Rickelodeon and Duck Fart; our Live Stream Camera Operator, Beef; our Survey Supervisor, Nite Gown; our Announcer, Paul Turner; and our Executive Producers Mardell and Lee; this couldn't possibly happen to the level of quality that it does without each and every one of you!
My Party Crew is truly my entertainment support team. It takes a special kind of person to help me do what I love to do. And I need people with a FENtastic sense of humor, a FENominal sense of comedic timing, and a passion for FENtertaining people and making them smile or laugh. Every single one of you fits that criteria completely.
And most importantly to my wife, Erika, I don't even know where to begin. I love that you're the highest-seniority, longest-running Party Crew Member. I love that you and I can truly share one of our genuine passions together. I love that your sense of humor makes me fall in love with you more and more each day. I love that you're my number one answer!